Some of us are not made for the beach. It's not an issue of having or not having a so-called "beach body," but more of an issue of being encased in the palest, pastiest skin imaginable. I don't really tan, so much as I burn and then get even whiter. Plus, I'm not very good at relaxing.
You might be imagining a flaming red girl twitching on the shore of a vast sea. You would not be wrong.
But my husband wanted to hit a beach for our June vacation. More specifically, he wanted an island. Since he's usually content to let me plan whatever I want for vacation, without too much grumbling I planned instead of a few days visiting St. Maarten/St. Martin in the Caribbean.
As I type this, a week or two after our return from vacation, my shoulders are still peeling. About a week ago my scalp decided it was the perfect time to start peeling. You know, since I burned the crap out it. It looked like I have dandruff. Awesome.
Anyway, yes, St. Maarten. I rented a condo on the French side of the island (so, St. Martin), at the northern-most tip of French Cul-de-Sac, at Orient Beach, which is a clothing optional stretch of beach. It's not uncommon to see women going topless on most of the beaches on the island, fully nude less so. Even on Orient Beach (in June, at least), there weren't a ton of nudists. However, we did see the same folks every morning doing their beach walk sans clothes. They were primarily older folks. We saw nude yoga and nude jogging. When you're not used to it (like us), it's super difficult to know where to look . . . because obviously you don't won't be openly staring at some geriatric guy's peen. It just seems rude, you know?
If you can embrace the baring of the dangly bits, Orient Beach is a good spot to be. There must be eight or so different beach clubs, all with their own charms. But for $20, two beach chairs and a giant beach umbrella are yours at just about any of them–plus a "beach boy" (seriously, that's what they're called–and they're generally young, French, and cute) delivering drinks all day to your perch on the beach. Many of the clubs also offer water activities–parasailing, jetskis, snorkeling, etc. Our favorite club (Coco Beach) did not, but there were fewer people and the chairs were spread out a bit more. Plus, our beach boy offered me homemade rum at the end of the day when he closed out our account. There's something to be said for that. The water is great on Orient Beach, with bigger waves when it gets windy (which is it was toward the end of our trip) and an interesting shallow trench about four feet off the shoreline in which several baby sharks got stuck. The water is also crystal clear and an unreal turquoise color.
There's not a ton to do in French Cul-de-Sac other other than to hang out on Orient Beach. There are a few food markets, a wine shop, and a couple of restaurants that aren't supposed to be anything special.
While we spent the bulk of our time on Orient Beach, we did a few other things:
Pinel Island. About four minutes from our apartment was the embarkment point to Pinel Island. A water taxi/ferry picks you up at the dock, and for $12 runs you over to the island. There are only two beach clubs on the island; we chose Karibuni, primarily because the food was supposed to be very good (it was–I had ceviche). Again, $20 to rent two chairs and an umbrella, and the beach boys run drinks to you all day–and food, too. We ate in the little restaurant, though, which is little more than a covered dock on the water. The snorkeling is quite nice because the bay is protected and calm. There's less protected water (with more underwater variety) on the other side of the island, which we were too lazy to find.
Marigot. This little town is far more touristy than any other part of St. Martin. It looks a bit resorty and upscale, I guess is what I mean. The one thing in Marigot I can heartily recommend is Serafina's, which is a wonderful French patisserie. The staff is lovely and kind, and the desserts are incredible. Seriously. So good I ended up buying more cake to go so I could eat it later. Good bread, too. I was amazed, though, to see meringue and French macarons. It must have been 100 percent humidity in St. Martin (no joke); how did they get their meringues and macarons to set up? Super impressive.
Grand Case. It's a tiny little town with a tiny little airport. I saw way more locals in Grand Case than in Marigot and Cul-de-Sac, and the food is way more interesting (barring Serafina's). We ate at a lolo one night (a very basic joint that offers grilled food, generally manned by locals) and had a very good meal of grilled fresh-caught fish, although with an odd assortment of side dishes–mac and cheese, potato salad, cole slaw, beans and rice, greens, and spaghetti. Another night we ate at Cafe Calmos, which is right on the beach. We had a table close enough to the water to have waves wash under our table. The food and service were quite good, and it was a great place to watch the sunset.
Philipsburg. The big cruise ships primarily come into Philipsburg, which is on the Dutch side of the island. There's a beautiful beach and water, but it was not my kind of a place–super touristy, lots of shopping with pushy salespeople outside trying to get you inside to look, tons of traffic. I wanted to go because I was looking for a museum shop. Of course, we couldn't find it because there are no street signs anywhere. Meh.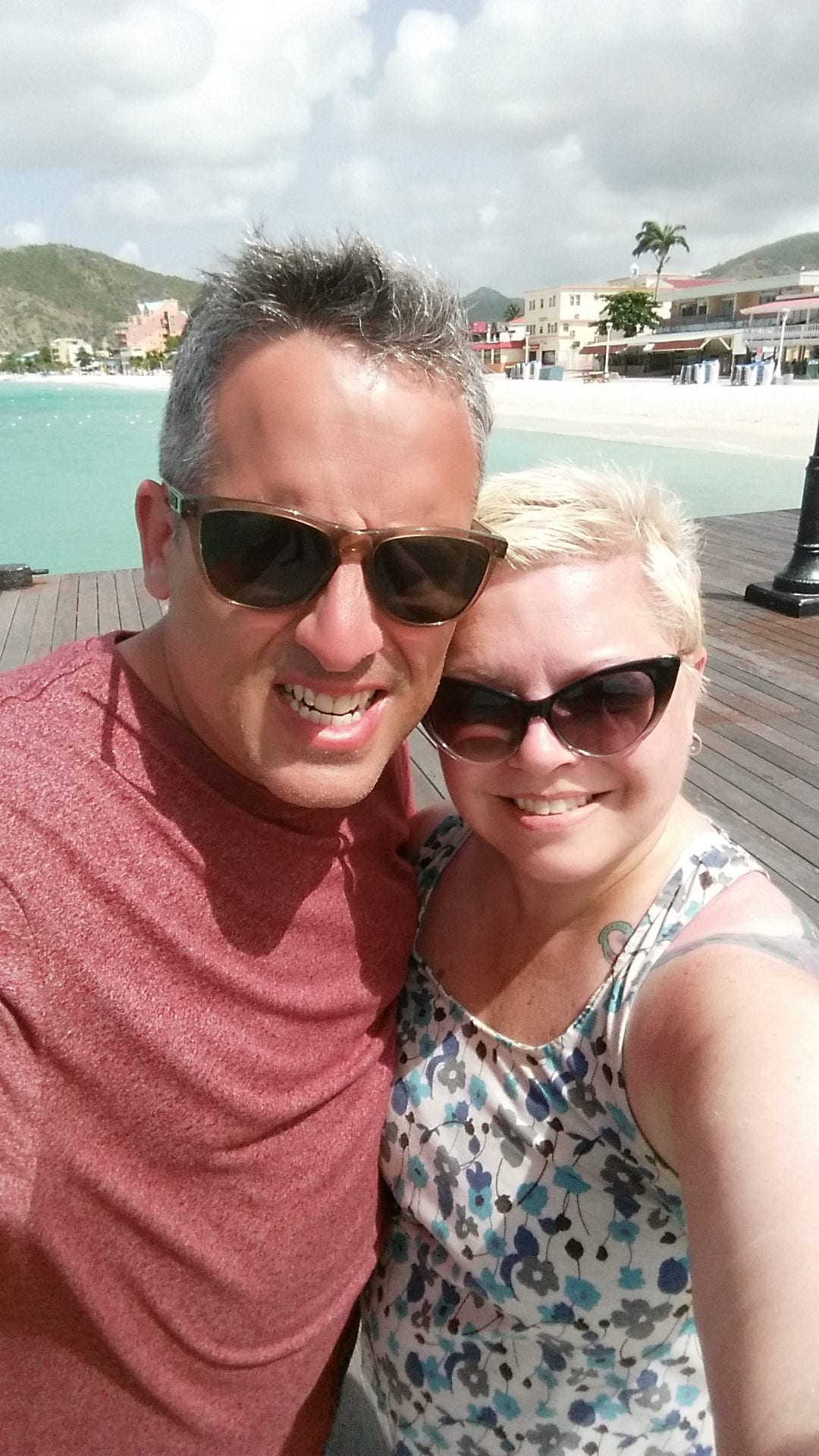 Other than that, we drove the perimeter of the island once. It took about an hour.
So. Lots of good things about St. Martin/St. Maarten, but there is one major thing about the island that was upsetting. Specifically, the very obvious poverty. Depending on which statistics you pay attention to, either 75 percent or 25 percent of local residents live in poverty. The real number is probably somewhere in the middle, which is still a lot of people. The island is tax free, so it's not like there's tax money coming in to pay for safety net type of programs. The majority of the jobs on the island are tourism-related, and they probably don't pay very much. It's not like industry is expanding much, so there are only a finite number of jobs available. On one hand, just by visiting the island, I'm part of the problem. On the other hand, I'm contributing to the economy, so it's not all bad. I haven't quite worked out how to feel about the poverty issue.
There is a fair amount of crime on the island, though, as a result. We were advised by the woman we rented our apartment from not to be on the beach after dark and not to be out too late, just to be on the safe side, and I've certainly read about robberies occurring there. We mostly adhered to the warnings and had no problems at all.
The lack of tax money coming in also impacts the state of the roads on St. Martin. We rented a car from Sixt at the Grand Case airport (primarily because cars rented from the Dutch side of the island have an "R" on the license plate to denote that it's a rental–which is like a beacon to car thieves) and drove all over the island. The roads are chock full of potholes. Unrelated to the lack of tax money (probably) were the many live obstacles we encountered on the roads: goats, dogs, cats, giant lizards, and even a couple of massive ox.
As I said, I'm not a beach person. I liked St. Martin in the off-season, even though it was very, very humid. I might return one day, but it probably wouldn't be a super high priority for me.
Save