The Trajectory of Dreams (Adult Psychological Thriller)
Published March 2013 by Bitingduck Press
Support your community! Order your copy from a local, independent bookshop | Amazon | Barnes & Noble
Add it to your "to be read" list at Goodreads | Shelfari | LibraryThing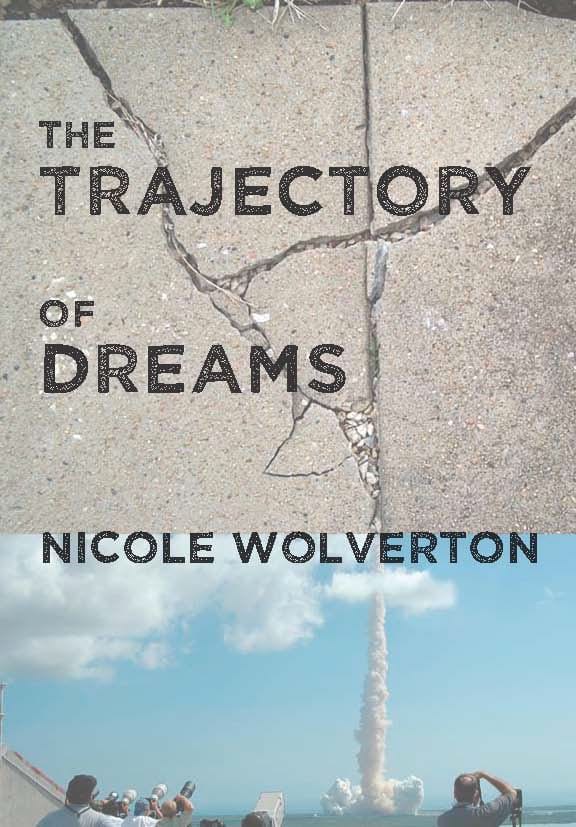 THE TRAJECTORY OF DREAMS, chosen as #15 on Typographical Era's Best Reads of 2013.
It begins with an explosion. Lela White's life hasn't been the same since the space shuttle disintegrated into a bright blue sky when she was a ten year old girl. Since her mother disappeared without a word or explanation. Years later, the world has moved on, but Lela hasn't.
Her precisely-ordered world revolves around both events. She can't forget. She can't let go. She can only prepare for the worst: the day she has to kill to keep the space shuttle from exploding again.
A novel that explores mental illness and the impact of national tragedies, The Trajectory of Dreams is told from the point of view of Lela White, a gravely mentally ill woman whose delusions compel her to break into astronauts' homes to watch them sleep. Only her careful monitoring of their REM cycles and judgments about their fitness for space flight can keep the shuttle program safe. The greater good is the only thing that matters. She can't be found out or have her work interrupted. Lela finds a way to balance her secret mission and her daytime job as a technician in Houston's premiere sleep lab.
When Zory Korchagin, a Russian cosmonaut on loan to the U.S. shuttle program, finds himself drawn to Lela, he puts her carefully-constructed world at risk of an explosion as surely as he does his own upcoming launch. As Lela's universe unravels, no one is safe.
PRAISE FOR THE TRAJECTORY OF DREAMS
"Wolverton has taken some liberties with details of the space program, but the primary fantastic elements are the symptoms of Lela's increasingly dubious grasp on reality; this work is less horror or fantasy than a skillful mainstream examination of a psychotic woman's final descent into insanity." –Publishers Weekly
"Well written and engaging, this debut novel […] takes us through the mind of a woman teetering on the edge of madness. It is at times uncomfortable, frightening, and anxiety inducing, but always entertaining." –NY Journal of Books
"The Trajectory of Dreams is a wholly original and fearlessly dark novel, an interesting combination of psychological thriller and character study […] her writing sings with tension." —The Millions (E. Mandel)
"The Trajectory of Dreams is unsettling, beautifully written, and truly original. In Lela White, Nicole Wolverton has created one of the most haunting characters in contemporary fiction. This is a remarkable debut." –Emily St. John Mandel, author of THE LOLA QUARTET, THE SINGER'S GUN, and LAST NIGHT IN MONTREAL
"This novel is a free dive into the bottomless ocean of insanity. With every chapter, every kick of the fins, you're sucked in deeper as the darkness mounts and the pressure builds. And like the ocean, The Trajectory of Dreams gives up its secrets grudgingly, so you'll continually be stunned as the protagonist, Lela, falls to her inevitable implosion." –Mike Mullin, author of ASHFALL and ASHEN WINTER.
"Nicole Wolverton's The Trajectory of Dreams leads readers into a seemingly orderly world that spirals into madness.  Just when you think you understand — you hope you don't!" –Jenny Wingfield, author of THE HOMECOMING OF SAMUEL LAKE
"The Trajectory of Dreams is a subtle, but haunting (and often darkly humorous) psychological thriller that slowly, unnervingly forces you to reconsider your own relationships…Nicole Wolverton is an incredibly talented writer and storyteller, and this novel is sure to earn Wolverton a well-deserved spot on the literary map." –Typographical Era
"Terrific read . . . The layering here is impressive as we see Lela's mind go in one direction while she's thinking, then shift into a more socially acceptable gear and she talks herself into the correct response or behavior for a given situation . . . It all blends together to present a chilling portrait of a truly broken woman." –Radish Reviews
"Incredibly bold and extremely unique, The Trajectory of Dreams lingers well after you read the last page." –Book Magnet
"This is a psychological thriller of epic proportions. […] 5 out of 5 stars for its crazy twists and exhilarating ending. This is a gripping, disquieting look at mental illness that will cause you to question how well you can truly know a person, especially those with something to hide." –Literary R&R
"Nicole Wolverton has created a beautiful character and a fantastic original story. Nicole paints insanity and rationality in a very special way. In no other novel have I experienced such a feeling of both loving and loathing. If this book was poorly written it would not have worked at all. After a few chapters one comes to admire and appreciate the uniqueness of this novel and Nicole's writing." — BookEnd Babes
"WHOA. This book grabbed ahold of me from the first page and did not let go. It is a crazy, imaginative and completely original story. […] The Trajectory of Dreams is an impressive effort and a really good read." — Too Fond
"[T]his was a delightful read. And chilling. And as I neared the end . . . simply impossible to stop." –The Readers Cafe
"The Trajectory of Dreams is not your typical psychological thriller […] I was hooked from the beginning until the end of the story. […] You can never stop once you start reading." – Bookingly Yours
"Nicole Wolverton takes us aboard the crazy train with this book. As I read I knew something was off about certain characters. However, I had no idea how deep the insanity of this story was going to go. Towards the end of the book there were surprise twists and turns that I didn't see coming. Oooh, how I looove that! Trajectory is a true psychological thriller." – The Relentless Reader
"There is so much going on in this novel, and I just could not wait to find out what was fully going on. […] If you enjoy a psychological thriller, then you'd enjoy reading The Trajectory of Dreams by Nicole Wolverton." – Love at First Book
"4.5/5 . . . This book was such a mind-player. It really gave pause for thought as does one really know what another person is thinking. The book jacket description just doesn't give it credit as to the "twisted-ness" written inside its' pages." – A Book and A Review