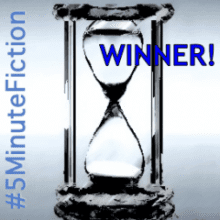 I'm excited to announce the winner of this week's 5 Minute Fiction is Tauisha Nicole. Here's her winning entry:
The murmurings in my head…
It's hard to just simply be alone because of them. They can do a million things.
Shutting up isn't one of them.
Guess the glass of Riesling isn't helping. Not really. If anything, the voices like it. Makes them more bold. More vocal. They love telling me how weak of a woman I am.
I shake my head, hoping to distract them into silence just when my date Arnold grabs the seat beside me.
"Lovely party," he smiles at me.
I nod. The voices don't agree with him.
"Met your friend Thomas."
The voices swoon. Thomas. The whole reason I'm here tonight.
"And his girlfriend, Anna. She's cool."
I groaned out loud.
"Not a fan?"
My eyes grew large. Uh oh. Only the voices were supposed to hear that. "Uh…"
Arnold laughs and shakes his head. "Hey, we all have our taste, right?"
And she just so happened to be his. Thomas could have done a better job in the love department.
But, what do you expect when he skips over you, the best thing to ever happen to him?
Or, better still, what do you do when you don't speak up about your feelings?
I sigh, listening to the voices chastise me yet again about my many failings.
If only they'd shut up…
"Whoa?" Arnold waved his hands in front of my face. "Where'd you go?"
I looked down into my glass. "This is good stuff."
"Only the best for an engagement party," Arnold agreed.
Wait, halt! What?
"This isn't an engagement party!" I whispered loudly.
"You don't pay much attention, do you?" Arnold shook his head.
It was at that moment I heard the loud applause. Saw the people lining up to talk to the now connected-at-the-lips couple.
Thomas and Anna.
My mouth hung open in shock.
The voices were silent.
Finally.
Congratulations to Tauisha Nicole, and many thanks to the guest judge for this week, Carly Anne West. Tauisha Nicole wins a copy of Carly Anne's novel The Murmuring. For those of you who didn't win, be sure to check out that book–it looks so great!
See you back here next week for another round of 5 Minute Fiction and a big announcement. Next week's guest judge, by the way, is Texas writer Jennifer Dean.