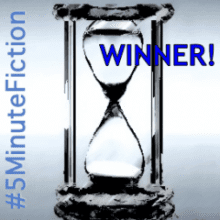 I'm a little late on the 5 Minute Fiction winner announcement this week. Let's just say I had an incident on Wednesday in aikido that has had me hobbling around and being vaguely panicked. I will refrain from sound like a broken-down old coot (although those thoughts are running through my head).
In better news, Jamie Grey interviewed me on the YA Misfits today, so head over there and check it out. You get to hear all about my cheese obsession.
But back to the late 5 Minute Fiction winner announcement! Who is it? That would be Michael D. Hansen, of course. And here's his winning entry:
"How many steps does it take until you stop being a complete waste of time? Is that number 12, or is that in the maintenance program?"

Carl stared at her, wanting to fight back, but knowing that it was not his way anymore. "I deserve that. I accept your anger, and I know that you have every reason to be angry with me. I'm will never be perfect, but I'm getting better than I was. I'd like to see him."

Megan eyed him askance as she picked up toys in her son's room. "No. You aren't going to see him again. Not after what you did to us. What you did to him, and to me. You can't step your way back into our lives."

He took a small step forward into his son's room, lowering to his haunches as he picked up a few things that poked out from beneath the dresser – Starburst wrappers, baseball cards, a Lego that stood in wait of a bare-shod foot. "I'm not the man I used to be. I got my blue chip… A hundred 'n ninety days sober. More than half a year that I haven't seen him. What I did to you… I can't fix that, but I can try. I can promise you, it's behind me."

She threw down the toys and papers she'd picked up, transformers cascading away from her fury. "YOU'RE behind US. You are history – the bad part of history that we don't talk about, that we just quietly thank God will never be repeated." She advanced on him, towering over him as she only could when he was down.

"I thank God for that too," he began as she screamed. She grabbed the nearest thing at hand and hit him over the head with it. The inflatable hammer squeaked as it struck home.

He eyed her as the rage melted. She started to laugh; she lowered against the wall as the laugh turned into tears. "Just get out."
Congratulations to Michael D. Hansen, and many thanks to the guest judge for this week, Jennifer Dean. Michael wins a signed copy of Jennifer's novel BOUND. For those of you who didn't win, be sure to check out that book–it looks so great!
See you back here next week for another round of 5 Minute Fiction. Next week's guest judge, by the way, is Kentucky scifi and horror writer Jocelynn Drake.