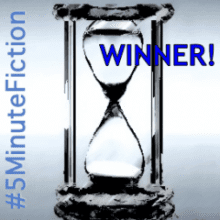 Many thanks to this week's guest judge Felicia York, author of Counter Girls. She picked the finalists, now you've picked the winner–which is Michael D. Hansen. Huzzah! He wins a copy of Felicia's novel and our hearty congratulations. Plus, you know, bragging rights. Here's Michael's winning entry:
"So, Janey Jane, are you having fun at the party?"

"Don't fucking call me Janey, Richard. It's best if you just leave me alone tonight – I'm known to be dangerous on Halloween. Ask Sean's balls, if you don't believe me."

"Oh Janey, do you have designs on MY balls?"

Jane looked him up and down, glitter scintillating off of Richard's pale skin as he smirked under his Robert Pattinson hair. Richard was pretty to begin with, but the effeminence was glaring with the Twilight garb. "I'll let you know if it ever looks like you get some of them."

"Oh Janey Janey Janey… Just because you haven't seen them doesn't mean they aren't real. You may not believe in them, but they believe in you. What are you supposed to be anyway? Some sort of Helena Bonham Carter lost in the woods?" He wrapped an arm around her, his hand less-than-accidentally brushing against her slightly-visible cleavage.

She wheeled away from him, eyes shooting daggers as he froze in the fire of her wrath. His eyes grew wide as she advanced on him, before they grew still in fright. She gave him a nudge and he tipped over, shattering. She was determined to look the part of the rubble pile that most closely resembled his head in the eye. "No," she snarked as she brushed stone dust off of her shoes. "Medusa."
Congratulations to Michael, and thanks again to guest judge Felicia York.
See you back here next week for the very last round of 5 Minute Fiction here at my website. I'll be sorry to see it go, but Wendy Strain will take good care of the challenge. I hope you'll join me on March 26 to celebrate the end of an era (and the beginning of a new one). Next week's guest judge, by the way, is ME! I'm feeling all sorts of excited about that. I hope so many of you show up to participate that I cry from all the reading I have to cram into an hour. Up for grabs to the winner is a copy of my novel, The Trajectory of Dreams, which will be released on March 1 by Bitingduck Press.