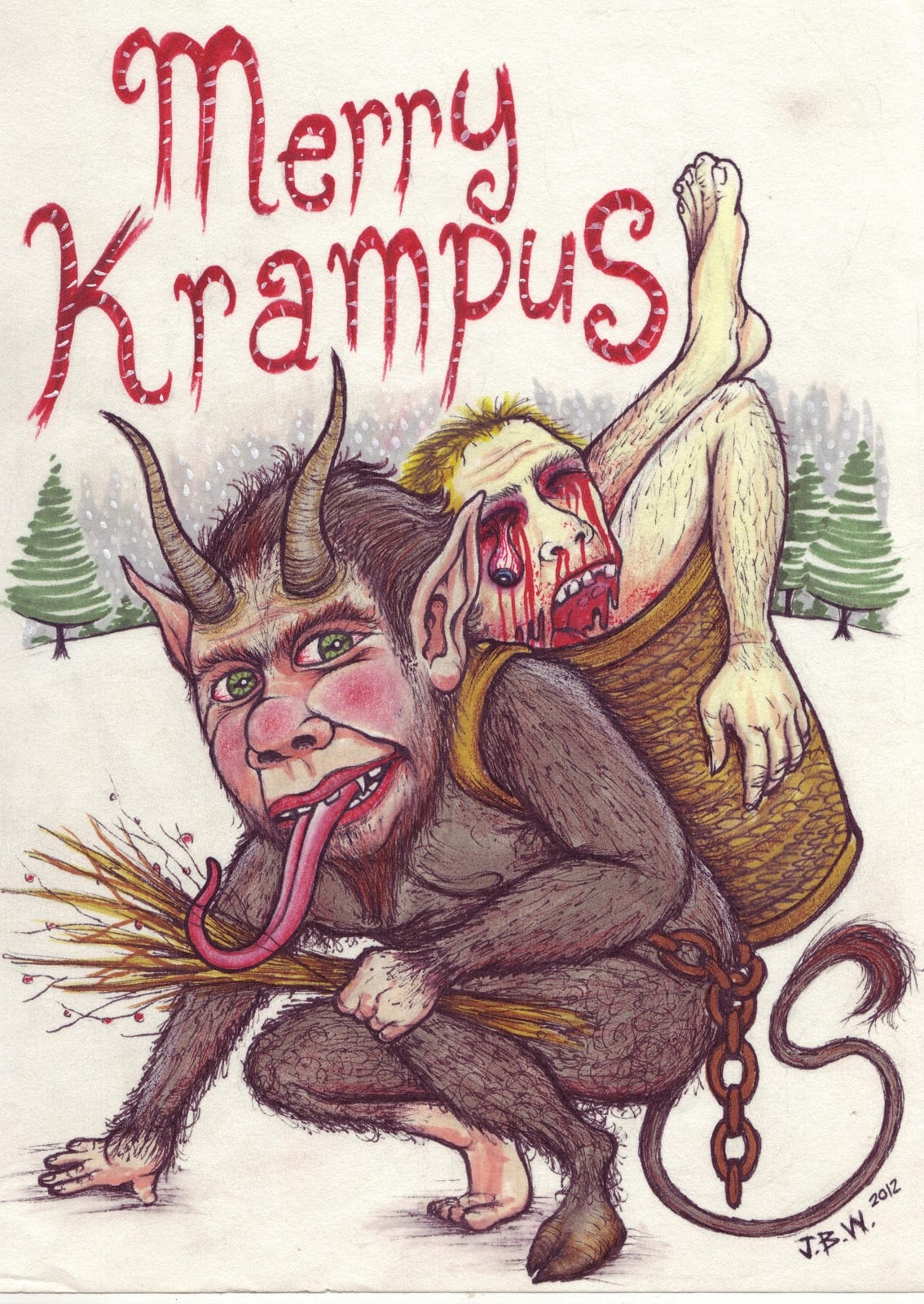 The story of the Krampus has always tickled me. Krampusnacht has already passed–way back on December 6–but think of the Krampus as Santa's evil counterpart. You've got Santa giving out gifts to the good boys and girls, and then you've got Krampus punishing the bad ones. No doubt, Fox News' Megyn Kelly would proclaim the Krampus' whiteness, too, if he'd been embraced by American culture. But alas, Krampus is a little too . . . well, pagan for all that. Santa, too, has a pre-Christian origin story–take a little bit of the god Odin mixed with the pagan Sinterklaas celebrations, toss in the Christian St. Nicholas story, and you've got Santa. Kookookachoo.
As a kid, I probably would have been more tempted to believe in Krampus much more than I was ever inclined to believe in Santa. That might explain my inclination toward writing horror and dark thrillers. Someone asked me the other day when I stopped believing in Santa, but to be honest, I don't know–because I don't remember ever believing (although my mom assures me that I did at some point). I was always a pretty cynical kid, so I imagine that my belief went out the door at the same time as my religious leanings.
Still, I like the holidays in general. December is full of fun stuff, including Krampusnacht. Christmas, Hanukkah, Kwanzaa, Festivus, Chalica, Winter Solstice, Boxing Day…sometimes Diwali and Eid. There's always a lot of hooha about non-Christians waging a War!On!Christmas! –usually revolving around people wishing each other Happy Holidays instead of Merry Christmas, which strikes me as kind of stupid. Why would I presume to know what a person's religion is or what they celebrate? Why not wish someone a Happy Holidays so it includes good holiday wishes for everyone instead of just a portion of people? I don't know…the whole War!On!Christmas! thing seems like a made up reason to get outraged over nothing and a fundraising scheme for conservatives.
So yeah, whatever you celebrate, however you celebrate it–here's wishing you and yours much joy.