I emerged from Ezeiza International Airport this past Saturday into blissfully cool air. Philadelphia, when I left, was nearly tropical, but Buenos Aires weather reminded me of an early spring day. The woman from the booth where I arranged transport into the city pulled her jacket closed and shivered. She glanced at me–in my sleeveless shirt–and said, "Esta muy frió."
I almost laughed.
The ride into the city revealed first crumbling high rise buildings with drying laundry strung between windows. My driver was fairly conservative, given the motorcycles and cars whizzing by. Traffic lanes are only a suggestion, apparently. The high rise buildings gave way to a more typical urban landscape of squat blocks of stores mounted by apartments overhead. There are still many high rises in the city, though. The architecture and general state of many of the buildings reminded me of old school public housing here in Philadelphia–the type of buildings that our housing authority is razing in favor of garden apartments. And it isn't to say that there isn't new construction type of housing apparent. Overwhelmingly, though, the impression I got was of aging buildings and architecture, of things that needed upkeep and maintenance.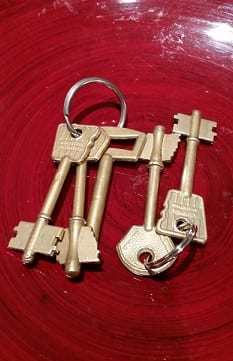 As we moved into the Recoleta neighborhood, where my apartment was, the aging buildings seemed more charming. I've heard Buenos Aires called the Paris of the South or the Paris of the Americas, and in Recoleta I could see it–the architecture and the look of it and the corner bistros are similar. My Airbnb host, Inés, showed me around her apartment, a high-ceilinged place with parquet floors and a bidet in the bathroom. On leaving she did the double cheek kiss, something common for porteños. The keys to my apartment were skeleton keys, which was something I found hard to get used to. During my first trip out of the apartment, I nearly called Inés to let me back in because it was taking me so long to unlock the door!
So, what did I do for three days in Buenos Aires (BA)? After washing off too many hours of airport stink, I caught a cab over to the Colegiales barrio for a Graffitimundo street art tour led by the fabulous Ana Montenegro. I took the North City tour, which included urban art in the Chacarita, Villa Crespo and Palermo barrios as well, and now I'm wishing I would have taken the South City tour, as well (and not only to enjoy the amazing weather). Street art in Buenos Aires isn't illegal as it is in other places, and Ana stressed that in BA its not gang-related; rather, it starts with middle class kids with access to disposable income and is more about communications and art in public spaces. Philadelphia is widely believed to have one of the largest public art collections in the U.S., including art murals, so I'm used to seeing this kind of art regularly–however, our art is sanctioned and regulated, etc. Quite different from the free expression in Buenos Aires. It reminds me a lot more of the street art in Amsterdam, which in large part is a more uninhibited reaction to political and cultural issues. Here are a few of my favorite pieces from the tour:
[nggallery id=4]
Saturday night was dinner at Casa SaltShaker, one of BA's closed door restaurants. Recently, I've heard the term "sociable hermit" tossed around, which describes me fairly well–the idea of intentionally putting myself in a potentially painful social experiment where I'm forced to interact with strangers fills me with dread. I am not a great networker, for sure. But the reviews were favorable for Casa SaltShaker, and so I snagged a spot at Saturday night's dinner. Guillaume from Montreal and I arrived at the same time, the first guests. Shortly thereafter a guy who had just graduated from Rice University in Houston showed up with his parents, who live in Charleston, SC, followed by Simonetta, a German citizen who has lived for many years in Boston and NYC. Just as we'd sat down to start eating, Dearbhla from Northern Ireland arrived, and that was our complete dinner party. I remain shocked at how much fun I had, and I don't think it was just my relative lack of sleep or all the wine that made it so. Dan Perlman, the chef, and his husband Henry have an amazing apartment, and Dan's food was fantastic. A full write-up of the dinner can be found here. My favorite dish was the squid salad, and I'm pretty sure I'm going to have to try to recreate it at home.
Sunday morning I spend hours wandering through Recoleta cemetery (during which I had a ton of ideas for future plots) and exploring the Feria de Artesanos de Plaza Francia, a weekly arts/crafts fair just outside the cemetery. My afternoon plan to check out the Latin American Art Museum of Buenos Aires (MALBA) and the Museo Nacional de Bellas Artes was thwarted, though–unbeknownst to me, there was a mayoral run-off election that day, and all the museums were closed as a result. More wandering ensued. I hung out a bit next to the Floralis Genérica sculpture in a park, enjoying the sun, and then I managed to step into a hole and trip ass over tea kettle. Klutzes unite! It's always a real joy to fall over in front of a crowd, especially when one of them is an insanely hot jogger who, of course, beelined over to me with rapid fire Spanish inquiries into my health and well-being. No injuries to report, except to my wounded pride!
[nggallery id=5]
I did get to visit MALBA the next day. The most well-known piece in the museum is one of Frida Kahlo's self-portraits, but there was also a wonderful Rogelio Polesello exhibit. MALBA is tiny, and there is an admission price (most other BA museums are free) of 75 pesos, or the equivalent of $8 USD. Despite being a small museum, $8 seems about right. After spending quality time at MALBA, I took a cab to the Palermo Viejo barrio and walked around. I also was able to visit El Ateneo, a bookstore that also makes those listicles of book shops you have to see before you die. I considered, just for a moment, moving in and living quietly for the rest of my life in this gorgeous place.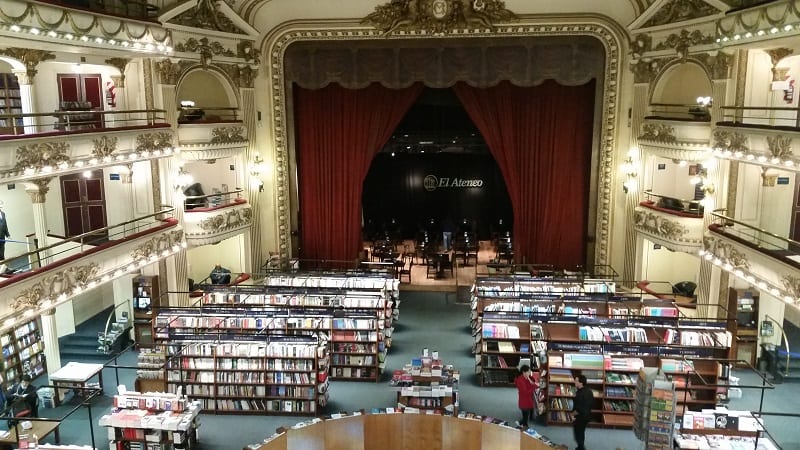 I was going to putz around Recoleta a little more, but a look at the flight loads convinced me it was a good time try to leave. Non-rev flying (flying stand-by) can be a tricky business, one that requires a certain degree of flexibility. Like a moron, I flew to BA smack dab in the middle of winter school holidays, which meant that there were hardly any empty/unsold seats on planes to come by. I had a plan, of course–if I couldn't get out of BA, I was going to take a ferry across the Río de la Plata to Montevideo, Uruguay and fly out from there. But the flight load looked good in BA for Monday night, so I quickly packed up and cabbed it to the airport. The non-rev overlords were good to me, and I was able to get home with no problem at all. Almost 24 hours in the air for three days in Buenos Aires. It was worth it, and I'll definitely return to Argentina (if for no other reason than to get a better return on investment on the $160 reciprocity fee necessary to enter the country, which is good for 10 years).
This trip was my first in South America, and–as I tend to do–I did a lot of research beforehand. One thing that kept popping up was how dangerous Buenos Aires is. Pickpocketing, muggings, robberies, scams, even kidnappings. Even the U.S. State Department cautions Americans about the crime. As a single traveler, I was slightly concerned. Maybe all the criminals take vacation during the winter months, because I had no problems at all. I walked alone at midnight through the deserted streets of Recoleta to get home from my dinner at Casa SaltShaker, half expecting to be abducted or jumped, but there was nothing but cool breezes and the sound of traffic. It was lovely.
I'd also been told that Porteños are arrogant and rude, another thing I absolutely did not witness. Everyone I met was incredibly nice. My Spanish skills are pretty meager, but even people with limited English skills went out of their way to help me understand and, you know, talk to me. One of my cab drivers asked me out to coffee, and not in a lecherous way (I don't think, anyway). Meeting people was easy. Being in BA was easy. Easier than I thought.
For those who fly non-rev, as I do, I have a few tips. The first is above–the thing about ferrying to Montevideo and flying out from that airport, which is supposed to be amazing. Secondly, I'm told the Ezeiza airport in BA can be a real bear to get through security–like it can take upwards of three hours. Admittedly, it did take maybe 2.5 hours to get through passport control and customs on the way in, but I breezed through security on the way out (maybe 20 minutes, tops) . . . all due to the fact that I gave myself extra time to get through, and likely beat the crowds that descend for overnight flights to the States. Third, when you get to the airport's international terminal there is likely not a special check-in desk for your airline; rather, there is a bank of check-in kiosks that cater to multiple airlines. And fourth: do not travel to Buenos Aires in mid-July; as I also mentioned above, this is when Argentinian kids have their winter break. Fly in June or fly in August because your chances will be better. I say I flew out with "no problem," but trust me–it was a little hairy.