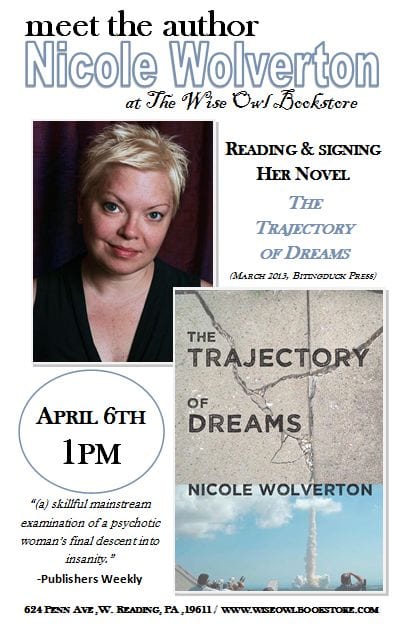 If you're in the West Reading, Pennsylvania area on Saturday, be sure to swing by The Wise Owl Bookstore around 1pm. I'll be doing a reading from THE TRAJECTORY OF DREAMS, followed by a discussion (or maybe a bit of reading, a bit of discussion, a bit of reading, a bit of discussion–nothing like the element of surprise, right?), and then I'll be signing copies of the book.
Don't worry if you haven't read the novel yet! I'll try to make sure nothing gets spoiled for you, and you'll be able to buy copies at the store (which is fabulous because The Wise Owl is a great independently-owned shop–and Kira, the owner, made the great promo graphic). I'll also have some swag to give out!
This will be a really fun event, I think, but it won't be quite the same without Mr. Tumnus, the store cat. In case you hadn't heard, the store atmosphere wasn't agreeing with Mr. Tumnus, and the owner recently discovered that the poor kitty has kidney problems. He'll be there with us in spirit!