Cobblestones are dangerous, dangerous things. Slippery, even for sure-footed people on a bright, sunshine-y day. I get that they're charming, and I get that they're historically accurate . . . but they're a recipe for disaster, especially when it's pouring down rain and a certain someone (you know, me) is confined to an immobilization boot.
This past weekend, I decided to visit London and Brussels, both full to bursting with cobblestone streets.1 The main reason for the trip was to visit the Tower of London to see the WWI commemorative poppy exhibit. I saw pictures online, of course, but there's nothing like seeing something in person, you know? A sea of nearly a million red ceramic poppies seeming to flow like blood over the dry moat that surrounds the Tower? Yes, I wanted to see it. And considering the exhibit is being dismantled, beginning November 11, there's not a ton of time to work it into my schedule.
The plan: a solo trip. Take a red-eye flight to London on a Friday night, arriving around 10am on Saturday morning; take the tube to the Tower of London; spend three-ish hours there to see the exhibit and hang out; take a train to Brussels in the late afternoon; spend the night in Brussels; fly home the next morning. Why add in Brussels to this trip? Because flying out of Heathrow airport would add at least an additional $150 to my trip2; taking the train to Brussels and staying overnight there saved me quite a bit of cash. Plus, hey, I've never been to Brussels, so why not?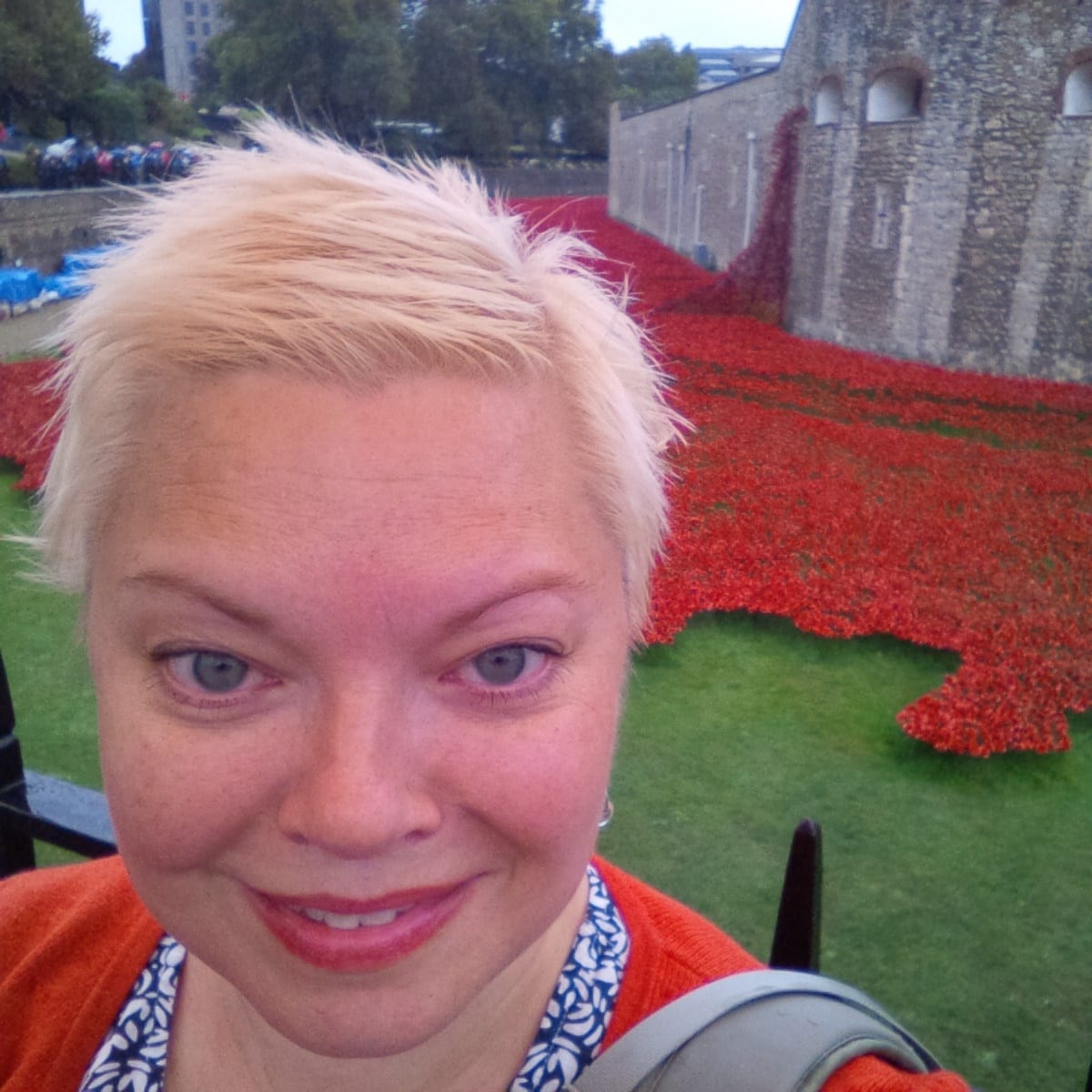 But back to the cobblestones. As you might have figured out, it rained–hard–all day on Saturday. I arrived in London on schedule and a little bleary-eyed (my selfie at the Tower of London is proof of that), but excited to start moving.
Memory is a funny thing. My husband and I visited London a few weeks after the September 11 attacks. I don't remember it taking an hour to get to London via the tube, but it must have–we stayed a hotel only a block from the South Ken station. And I wasn't prepared at all for how packed the Tower of London would be. Back in 2001, hardly anyone was traveling for pleasure. Most people holed up in their homes in case of more terrorist attacks, and so Craig and I had Tower of London almost to ourselves. I remember that, aside from the guards and Tower employees, there might have been five other people on the grounds on the day that we visited. In retrospect, it was an amazing opportunity to see the Tower of London in a way that not many people do–able to wander at our leisure and spend as much time as we wanted with the Crown Jewels or in St John's Chapel. Without the crowds, it was quiet, almost spooky. It was easy to imagine the ghosts that might inhabit the place. With the crowds, it was less mysterious and more . . . hectic.
I'm making it sound as though I didn't enjoy my visit to the Tower of London on Saturday, but that's not true. Perhaps I enjoyed it less, but I was still thrilled to see the poppy exhibit. It surpassed my expectations, and it was very cool–volunteers were placing poppies before the deluge halted their work. The effect of the poppies was nothing short of gorgeous, and I had fun trying to figure out how the Tower and the poppies looked different depending on the vantage point.
[nggallery id=3]
Up to that point, my trip was a rehash of things I'd done once before. I'd been to and through Heathrow, and I'd navigated the tube before . . . so taking the Eurostar to Brussels was super exciting. The almost three hour train ride (four if you count the loss of an hour; Brussels is in a different time zone than London) winds its way past dozens of small English towns–Gravesend, Aylesford, Hollingbourne, and Ashford–then zips through the Chunnel (the tunnel that passes beneath the English Channel at the Strait of Dover) only to shoot out into France (near Calais), meander through several tiny French towns, cross over the border into Belgium not too far from Tournai, and end up in Brussels. Some of the trip was very picturesque (think sheep grazing on green hills), and some places looked sort of industrial. All told, though, it was a relaxing trip, akin to taking a long-ish ride on Amtrak.
Brussels was, you guessed it, full of cobblestones. They also have roundabouts, which my cab driver clearly knew how to navigate while I watched from the backseat, thinking about how I'd never want to drive there. My hotel was right on the Place du Grand Sablon, a small architectural square surrounded by restaurants, chocolatiers, and winding alleys with houses from the 16th to the 19th century. I had a nice view of the Notre Dame du Sablon church and the tops of the antiques market tents from my hotel room window. The city, what little I saw of it, has a very quaint look, sort of like Paris but much smaller and less urban.
Place du Grand Sablon was relatively empty. There were people eating and drinking at various restaurants, but none of them seemed packed, and hardly anyone was walking around on the streets. With the rain and the empty streets and the quiet, it felt very . . . I don't know how to describe it. Maybe like I was a spy in some 1940s drama, tramping through the rain-soaked streets in the middle of the night to deliver sensitive information to a shadowy contact who would step out from a dark doorway into the dim light. All I needed was a trench coat.
I would have liked to have arrived in Brussels a little earlier, see more of the city, but it wasn't possible. By 7p, most of the chocolatiers are closed, and the antiques market is over for the day. There was a single chocolate shop open until 8p–Pierre Marcolini. Of course, I totally bunged it up (call it my stupid American moment). I'd forgotten that the UK still uses pound notes, so when I hit the ATM at Heathrow it gave me pounds, not euros. I admit I didn't look very hard at the bills; I just assumed it was euros. I tried to paying the very patient guy at the counter in Marcolini in pound notes instead of euros…I'm surprised he didn't roll his eyes at me. By the time I was able to find a bank to get euros, the store was closed, and I was out of luck. Happily, the Wittamer shop opens at 7am. I was able to snag a box of chocolates and a box of macarons to take back on the plane (I've been able to sample both at this point; they are amazing. I was also able to grab about half a dozen Neuhaus kirsch-soaked chocolate cherries at a duty-free chocolate shop at the Brussels airport–stellar).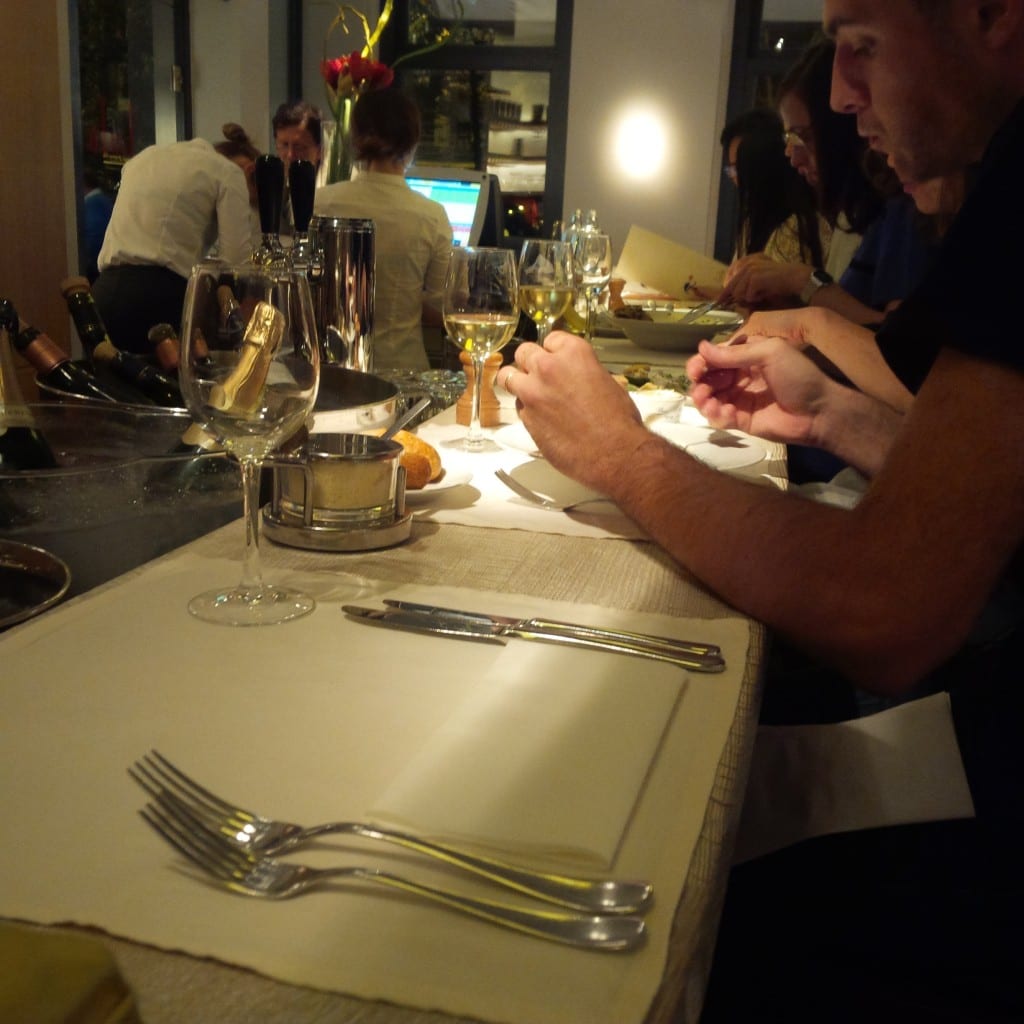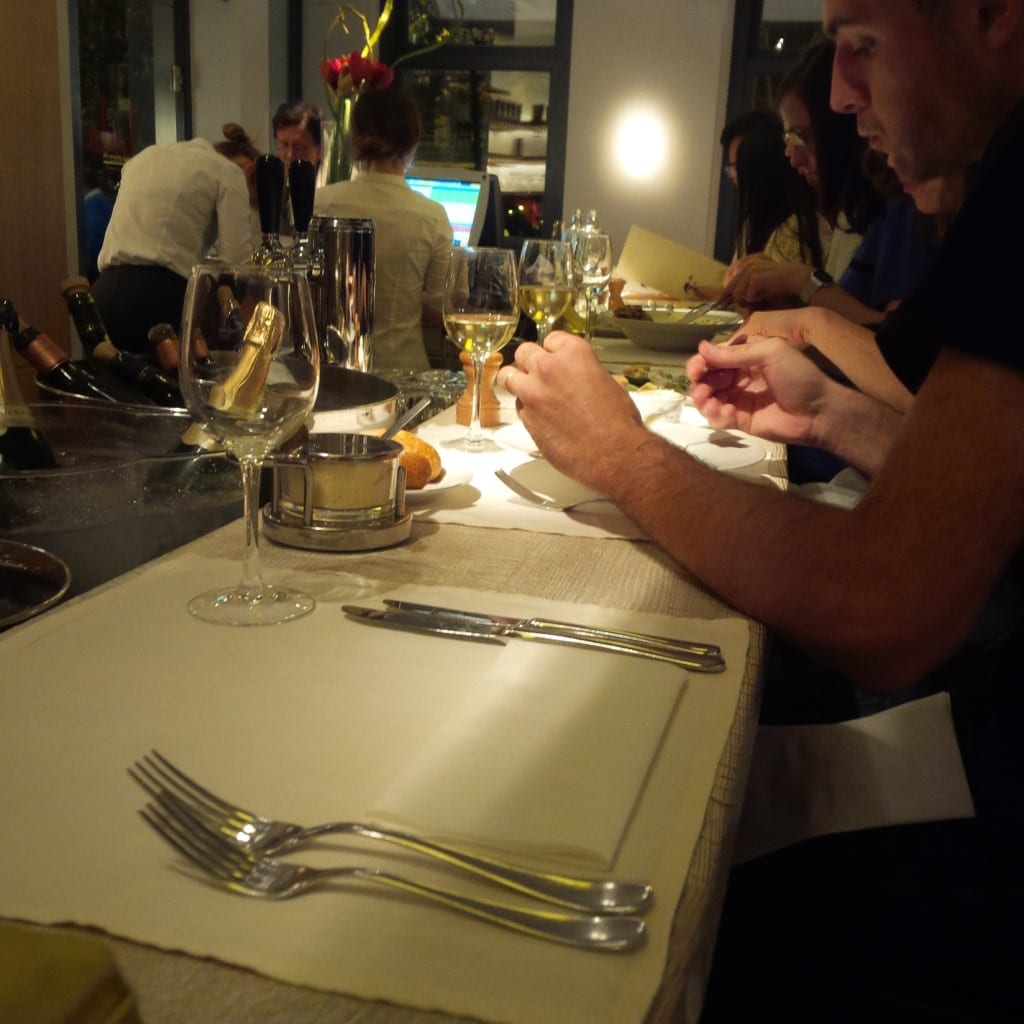 I also had dinner at a great little place called Lola. I wasn't super hungry, but I knew if I didn't eat something I'd be ravenous in the morning; Lola was just perfect. To begin with, not every restaurant would embrace a single person looking for a meal–let's face it: I'd be taking up space, a whole table. But Lola has a great bar, where you can sit and have dinner. The hostess and the staff were great to me, and the food was fantastic. The mackerel tartare with cauliflower foam was just the right portion, and it was exactly what I needed.
Flying out of Brussels on Sunday morning didn't go exactly as I'd planned–a mechanical problem with the plane kept us at the gate for two hours longer than scheduled. That's minor stuff, though. When you're flying standby, just getting a seat on the plane is a victory! I arrived home around 3p on Sunday.
So yeah, I did a Europe trip in a single weekend. That's a little over 14 hours on a plane, 4-ish hours on trains and subways, and about 7 hours available to be a tourist. Totally worth it. I'll definitely do it again . . . only I'd limit myself to a single city in order to maximize the amount of time I have to actually explore a place.
NOTES:
1. Since my husband works for an airline, I–by extension–get to share his fantastic travel benefits: as long as there's a seat not taken by a paying customer, I can snag it for free or, depending, the cost of airport taxes.*
2. The UK has a departure tax on flights called the Air Passenger Duty (APD). How much you pay depends on what class you fly, as well as the distance from London to the capital city of the country you are flying to. If you're flying out of Heathrow to the States, you might pay as little as £69 or as much as £276. From what I understand, taxes at Heathrow will increase quite a bit over the next several years, which makes ground transportation to less expensive hubs (outside England and Scotland) way more attractive.*